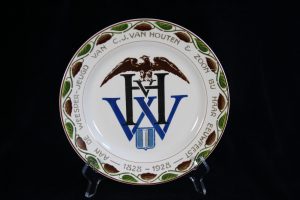 €95
Wall plate by Societe Ceramique Maestricht celebrating the centenary of Royal C.J. van Houten cocoa-factory (1828-1928)
Compare
Description
E04003 – Wall plate by Societe Ceramique Maestricht celebrating the centenary of Royal C.J. van Houten cocoa-factory (1828-1928).
Koninklijke Cacaofabriek C.J. van Houten (Royal cocoa-factory C.J. van Houten):
In 1828 patented Casparus Houten sr., a cheap way to extract the fat from roasted cocoa beans. Senior was the inventor of the hydraulic cocoa press. The core of the bean, better known as the nib, contains an average rate of 54 percent cocoa butter, consisting mainly of natural fat. Van Houten's machine reduced the cocoa butter content in the cocoa raw chunks with about half. These pieces could be easily pulverized into cocoa powder, the basis for all chocolate products. This powder came in place of the greasy, difficult to digest chocolate cookies, which in order to make a chocolate drink had to be cooked. In 1850 the company bought a property in Weesp, which had a steam engine and so developed into a modern factory. For the town of Weesp the arrival of Van Houten showed extremely important.
Text in Dutch: Aan de Weesper-jeugd van C.J. van Houten en Zoon bij haar eeuwfeest 1828-1928
Translation: To the Weesper youth from C.J. van Houten and Son at its centenary 1828-1928
Mint state
Age: 1928
Diameter: 22,5 cm
Height: 3 cm
Weight: 410 gr